Police Suspect Goes Viral Because Of Resemblance To Eminem
Police Suspect Goes Viral Because Of Resemblance To Eminem
As if Eminem hasn't got enough on his plate being caught up in his seemingly never-ending feud with Machine Gun Kelly, now the poor bugger is getting accused of being this man who is wanted by police in New Hampshire, US.
Police Suspect Goes Viral Because Of Resemblance To Eminem
Well, it's easy to see why, isn't it?
Sharing two snaps of the man on Facebook, Rochester Police Department wrote: "Officer Robinson is looking to identify this male in regard to a criminal trespassing case. If you know the information about this suspect's identity, please call 603-330-7128 and reference case 18-4300-OF.
Thank you!"
Shortly after, Rochester Police Department found their post going viral as it was flooded with comments from people who were dying to point out the likeness between the suspected trespasser and the Real Slim Shady.
"He's probably just going 'round the outside, 'round the outside," one wrote.
A second added: "Stop the tape! This kid needs to be locked away!"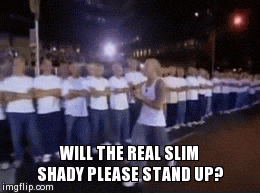 While a third posted: "UPDATE: Suspect narrowed down to three possible 1. Slim Shady 2. Marshall Mathers 3. Eminem."
The post has racked up more than 100,000 comments and has been liked over 42,000 times.
It attracted so much attention that the Rochester Police Department was forced to add an update to clarify that the man in the pictures wasn't the rapper.
In an edit, they wrote: "UPDATE: The subject has been identified, and we can confirm it is NOT Marshall Mathers." Thanks for clearing that up.
This isn't the first time a police force's appeal has gone viral for the wrong reasons, back in July last year, cops in Lincolnshire, UK, became the butt of a million jokes after sharing an, erm, interesting e-fit.
The state of this:
It wasn't long before people began comparing the picture to He-Man, 80s pop legend Chesney Hawkes and former Fun House presenter Pat Sharp.
Other commented to say they would be sure to remember if they'd ever ran into anyone who looked like this, which seems fair enough.
Featured Image Credit: Rochester Police Department